Today's Seminars - 6/12 - Finals Week
Monday 6/12
Tuesday 6/13
Wednesday 6/14
Thursday 6/15
Friday 6/16
DEPARTMENT OF MATHEMATICS
**The Department Staff will be working on a hybrid schedule**
SKYE HALL 208
Tel: (951) 827-3113
Fax: (951) 827-7314
Office Hours (front window only):
9:00 a.m. - 11:30 a.m.
1:00 p.m. - 4:00 p.m.
Outstanding VAP Awards 2022-2023
The Mathematics Outstanding VAP Awards go to Catherine Cannizzo, Javier Gonzalez-Anaya, Sayan Das, and Hassan Attarchi.
Please read more about why they were chosen and visit their profiles here.
---
F. Burton Jones Chair
The Mathematics Department is pleased to announce that Distinguished Professor Vyjayanthi Chari has been appointed F. Burnton Jones Chair of Pure Mathematics. The Math Department congratulates Professor Chari on her exceptional career and wishes her continued success.
---
Making Calculus an Inclusive Gateway to STEM Education
The UCR Academy of Distinguished Teachers presents:
Making Calculus an Inclusive Gateway to STEM Education
Time: May 24th, 2023 5:00 - 6:00 p.m.
Location: UCR, XCITE Commons Room, Rivera Library
Speakers: Kinnari Atit, Bryan Carrillo, Cathy Lussier, Dylan Noack, Yat Sun Poon, and David Weisbart.
For more information please visit cllmath.ucr.edu
---
Outstanding Global Ambassador Award 2023
The UCR Math Department proudly announces that Distinguished Professor Mark Alber is this year's winner of the Outstanding Global Ambassador Award. The Mathematics Department congratulates Professor Alber on this fantastic accomplishment.
Learn More About the Award and Dr. Alber
---
Mathematical Pathways to an Excellent Future
Join us on May 19th in Skye Hall 284 for the "Mathematical Pathways to an Excellent Future" conference. It includes a poster session and essay competition for undergraduate and graduate students to showcase their experiences and work in mathematics. Click here to learn more.
---
Distinguished Celebration
The International Center for Theoretical Sciences, Tata Institute of Fundamental Research is hosting the conference Algebraic and Combinatorial Methods in Representation Theory in honor of the 65th birthday of Distinguished Professor Vyjayanthi Chari. The Mathematics Department congratulates Professor Chari on her remarkable career and wishes her continued success.
---
Distinguished Burton Jones Lecture 2023
This year's Distinguished Jones Lecturer is Dr. Burt Totaro from UCLA.

The lecture will take place on April 14th at 4:00 p.m. in Skye Hall 284. Dr. Totaro's lecture will be "Algebraic Varieties at the Extremes".
---
Dr. David Rush Remembered
The UCR Math community extends our deepest sympathy and appreciation to the family of Professor Emeritus David Rush who passed away on February 13th, 2023. Dave was a prolific mathematical author and mentor whose positive influence on the careers of many young people will be felt for years to come.
To read more about Dave's impact on mathematics and our department Click Here.
---
Zhenghe Zhang
For his vital contributions to interface of dynamical systems, spectral theory, and mathematical physics the university will promote Dr. Zhenghe Zhang to Associate Professor, effective July 1. The Math Department congratulates Dr. Zhenghe Zhang and wishes him continued success in his remarkable career.
---
Fulbright Scholar Award
The UCR Mathematics Department proudly announces that Dr. Mark Alber was selected for the Fulbright US Scholar Award in the academic year 2023-2024. The award will support his extended visit to the Mathematical Institute, University of Leiden, The Netherlands, to collaborate on the project titled: Combining Mathematical Modeling and AI Methods for Studying Formation of Shape and Structure in Developing Tissue.
---
John C. Fay Fellowship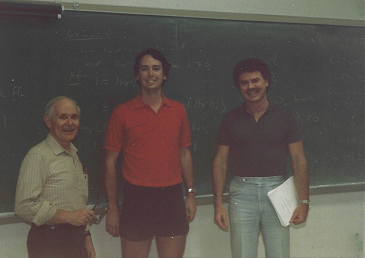 The Math department is thrilled to announce the establishment of its John C. Fay Fellowship. This fellowship will give partial support to a graduate student who will give a series of lectures as a preliminary to each Victor Shapiro Lecture. The preliminary lectures will be known as The Big C Seminar in Mathematics.
---
SIAM UC Riverside
The SIAM (Society for Industrial and Applied Mathematics) Student Chapter is established in UCR. The purpose of this student chapter is to organize activities that foster the application of mathematics and computational science to engineering, industry, science, and society, and to promote research in applied and computational mathematics, and interdisciplinary studies in general.
To learn more about the SIAM student chapter, visit the website https://sites.google.com/ucr.edu/ucr-siam-student-chapter or contact the faculty advisors, Dr. Heyrim Cho and Dr. Jia Gou.
---
Microtutorials
The Microtutorials in Mathematics project team at UCR has conceived a new approach to producing a collection of micro-tutorials as supplementary instructional and learning materials. The intent is to assist the students and instructors to connect calculus with applications in various subject matters. The students could use them freely on any topics of their choice.  The videos are produced with follow-up questions to enable instructors to flip their classrooms if desired. For details, please visit its website: https://microtutorials.ucr.edu
Math Alliance: Providing educational success to underrepresented and first-generation students is an important part of UCR's mission.
 
"Our goal is simple: we want to be sure that every underrepresented or under-served American student with the talent and the ambition has the opportunity to earn a doctoral degree in a mathematical or statistical science."
If you are interested in becoming a Math Alliance Scholar, please feel free to contact Dr. Matthew Durham. The benefits include access to Math Alliances Facilitated Graduate Applications Process and possible funding to go the the Alliance's Field of Dreams conference.
Instability of an inverse problem for the stationary radiative transport near the diffusion limit
Zoom
Hongkai Zhao, Duke University Radiative transport equation is used widely to model propagation of particles through a scattering medium, such as photon transport in tissues in optical imaging. In this talk, I will present instability analysis of an inverse problem of radiative transport equation with angularly independent source…
Toward Robust Machine Learning Methods for Scientific Modeling and Simulation
Skye 284
Paul Atzberger, University of California, Santa Barbara Recent emerging data-driven methods combined with more traditional numerical analysis are presenting new opportunities for model development and for performing simulations.   We will discuss a few motivating applications in fluid mechanics and biophysics.  We first discuss…